Please scan the QR code below to register.
扫描下方二维码进行会议注册
If you already have registered, you can scan the following QR code to pay.
若尚未缴费,可扫描下方缴费二维码进行缴费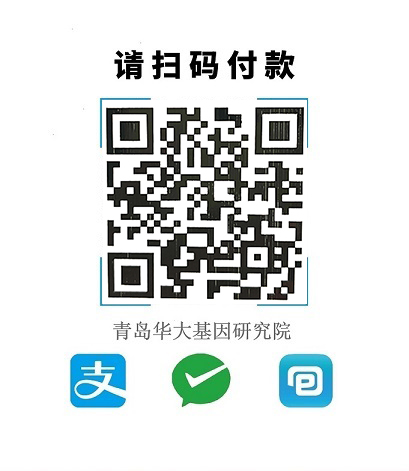 注册费用:
早鸟
参会费:1200元 人民币
学生价:800 元 人民币
标准
参会费:1500元 人民币
学生价:1200元 人民币
备注:
1、2023年10月1日前完成注册缴费可享受早鸟价格;
2、学生参会需要提交学生证信息方可享受学生价优惠;
3、会议现场注册缴费不参与任何优惠,需要缴纳标准参会费用;
4、注册费用中包含了您参会期间的午晚餐,住宿需要您自行安排。
Registration fee:
Early Bird Prices
Regular Attendee: 1,200 RMB
Student Discount: 800 RMB
Normal Prices
Regular Attendee: 1,500 RMB
Student Discount: 1,200 RMB
Notes:
1. Early bird prices are available until October 1st after you register and pay successfully.
2. If you would like to participate as student please submit certificate (e.g. student pass or ID card).
3. Registration on-site would not benefit any discount and the charge would be Normal Price of Regular Attendee.
4. Registration fee conclude your lunch and meal, but accommodation is NOT included. Please take care of your accommodation.
Other ways of paying
其他缴费方式
收款人:青岛华大基因研究院
开户行:招商银行青岛西海岸支行
银行账号:532906923610602
地址:山东省青岛市黄岛区团结路2877号
联系电话:0532-83162138
BENEFICIARYS NAME: BGI-Qingdao
BENEFICIARYS BANK: CHINA MERCHANTS BANK QINGDAO BRANCH
ACCOUNT NO.: 532906923610602
BENEFICIARYS BANK ADDRESS: NO.65 HAIER ROAD QINGDAO CHINA
SWIFT: CMBCCNBS400
ADDRESS: NO2877 TUANJIE ROAD HUANGDAO DISTRICT QINGDAO CHINA
Phone NO.: 0532-83162138
请转账时备注用户名及相关信息,格式为:OCEAN2023-姓名-早鸟普通、OCEAN2023-姓名-标准普通、OCEAN2023-姓名-早鸟学生、OCEAN2023-姓名-标准学生。
Please provide your information to us when transferring registration fees (e.g. OCEAN2023-YOURNAME-EarlyRegular, OCEAN2023-YOURNAME-EarlyStudent, OCEAN2023-YOURNAME-NormalRegular, OCEAN2023-YOURNAME-NormalStudent)